Students! Help us decide which scientists and engineers should take part in the next event, and you could win a £20 voucher. All you need to do is take 2 minutes now to judge these 12 sentences.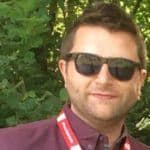 I had a great time taking part in the Mental Health Zone in June's I'm a Scientist, Get Me Out of Here, chatting to lots of students and meeting the other psychologists in our zone. Winning the event was a bit of a shock (a very nice one) and was a great finish to a really enjoyable two weeks of chatting, discussing, debating, and answering a whole variety of questions posed about mental health. It was very humbling to be nominated and to have received votes from the students as winner of the zone. A big thank you to those who took part in the chats and nominations!
Special mention needs to go out to the other psychologists in the Mental Health Zone who contributed to the event and chatted all things mental health over these two weeks. A special shout out to Caroline, Dennis, Jasmin, Olly, and Nicola – it was great to share the chats with this bunch and to hear about the great work they are doing!
I'm passionate about public engagement but it's not always easy to find the time to talk about our research outside of academia, so I am very grateful for having the opportunity to take part in I'm a Scientist and to connect with so many students and teachers. I've learned lots about what others are doing in the field and lots about what is concerning future psychologists (i.e. the students!) in terms of mental health.
For me, a couple of things really stood out after the chats with students and teachers in our Zone:
1. We need to better understand how technology is influencing our mental health and whether social media really is as bad for mental health as the media and 'common sense' suggest
2. As psychologists, we need to better inform others about why psychological approaches to understanding mental health experiences are needed and how others can pursue careers in this field. This last bit I hope to achieve by producing a resource which schools can use… watch this space!
Mental health is often seen as a difficult subject to discuss, so I hope that the students and teachers taking part can see that we do need to have these conversations about mental health and that we need to encourage a more open-minded view of what 'mental health' is and how we can support those experiencing difficulty with their mental health.
I also hope that we (the six psychologists in this zone) have inspired the students to study Psychology at college and university, and to pursue careers in psychology and mental health. I especially hope that some students consider careers as Chartered Psychologists and Researchers, and that they follow their curiosity in their future studies.
On a lighter note, one of the more random questions I was asked in I'm a Scientist still puzzles me… in response to "do you put milk or cereal first into your cereal bowl?" I am still puzzled that some people put milk in first before cereal… my mind was, and still is, blown by this!
Finally, I want to pass on my thanks to the I'm A Scientist team for their help, excellent moderation of the chats, and their general chattiness during quieter discussions… especially as I now have an updated list of books to read after one of these chats! I would also like to thank the British Psychological Society for funding the Mental Health Zone and for their continued support of I'm a Scientist.
Psychologists: Up for the challenge?
Want to answer some surprising, thought provoking questions? Maybe even learn things from students?
I'm a Scientist, Get me out of here runs every March, June, and November.
Find out more and apply to take part
It only takes 2 minutes and one sentence to apply!
---