Profile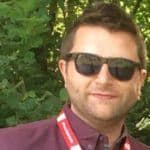 Robert Dempsey
Curriculum Vitae
Education

Hollingworth High School (GCSEs); Oldham Sixth Form College (A-Levels); The University of Manchester (BSc, PhD)

Qualifications

GCSEs, A-Levels, BSc (Hons) Psychology, PhD in Psychology

Work History

The University of Manchester; The University of Bradford; Staffordshire University.

Current Job

Senior Lecturer in Psychology & Mental Health

Employer

Staffordshire University
Favourite thing to do in my job: Research!

About Me: I'm a research psychologist working to answer various questions about mental health and wellbeing.

Read more

I'm originally from Rochdale, near Manchester, and currently live in Stoke-on-Trent near to my work at Staffordshire University. I love living in Stoke-on-Trent and I think it's a hidden gem outside of the nearby big cites like Manchester and Birmingham. Stoke has lots of countryside, green scenery, a thriving and quite quirky arts scene, and some of the nicest people I have met (Stokies call you 'duck'). Also, Stoke is home to the mighty Staffordshire oatcakes which are an oaty pancake best served with cheese and bacon.

My Work: I research people's experience of mental health conditions and the psychological factors underlying our mental health (Researcher/Senior Lecturer)

Read more

My work is really varied but my main tasks as a Senior Lecturer at Staffordshire University involves doing research, teaching students, … and paperwork!

My research focuses on the role of our social environment and how our perceptions of our social environment (e.g. how well we think we fit into society and our social groups) impacts on our mental and physical health.

Me and my collaborators research people's experiences of a variety of mental health issues and symptoms, across the more mild to very severe. My PhD research involved me working with people with bipolar disorder, who experience quite changeable moods ('highs and lows'), and looking at how their thinking styles and memory recall was related to their experience of bipolar. Since then we've researched the role of social perceptions in the experience of suicidality when living with a bipolar diagnosis, doing some of the first research in this area from a psychological perspective. I've developed an interest in researching suicidality, trying to better understand people's experience of suicidal thoughts and the factors which worsen or reduce these feelings.

I've conducted research using photographs in interviews to understand how people cope with disability and long term health conditions. I also research how people's perceptions of 'social norms' (what we think most people do/think) influence our health-related behaviours – including looking at how social norms influence substance use behaviours (alcohol, tobacco, other drugs) and eating behaviours (whether we can use norms feedback to encourage people to eat healthier).

I teach lots of different types of students at Staffs, from undergraduates, Masters' students and PhD students/Trainee Clinical Psychologists. I give lectures, workshops, seminars, 1:1 supervision for students' research projects – so my days are always very varied! I also lead our MSc Clinical Psychology course and co-direct our research centre ('Staffs Centre for Psychological Research').

Paperwork-wise… don't ask!

My Typical Day: Coffee - Emails - Teaching - Coffee - Meetings - Lunch - Emails - Tea/Coffee - Writing - Home!

Read more

I don't think I have a typical day! When our students are here for the teaching semesters my diary has certain blocks of teaching (seminars, lectures, 1:1s) in.

Outside of regular teaching weeks I may be marking work, planning research, reviewing research grants from other researchers, reviewing papers for psychology journals, collecting and analysing data, and writing. I think many people are surprised at how much of my job is about writing, especially when I am researching!

I think many people think lecturers at universities have long summer holidays (I wish!) – our summers do include some holidays but a lot of research work and planning for the next academic year takes place. The campus is usually quieter during the summer – means I can get my coffee fixes without too much of a queue!

What I'd do with the prize money: I would produce an online resource (video) for schools and colleges talking about why we need psychological approaches in mental health research and how to become a psychologist working in mental health research.

Read more

I would create a free-to-use online video and some supporting printed materials (flyers, posters) which detail why we need psychological approaches to understanding mental health-related experiences and how students can develop a career in Psychology and Mental Health. I plan to use the services of an animation/design company to make the video and printed materials vibrant and appealing.

My Interview

How would you describe yourself in 3 words?

Enthusiastic, funny, hard-working (that counts as one word?)

What or who inspired you to follow your career?

My family, who have just let me get on and pursue my interests (I was the first to go to University in my family), and Mr Sutcliffe, my form tutor in high school who was very supportive and gave me confidence as a quiet/shy teenager at school. I now work with lots of inspiring people, who keep inspiring me and who are fun to work with.

What was your favourite subject at school?

History and Biology at high school... but Psychology at A-Level.

What did you want to be after you left school?

Either a psychologist or a medical doctor (I went through a medicine phase after school and came to my senses when I started to study Psychology at 6th Form!)

Were you ever in trouble at school?

Not really... I was Head Boy at my school (says enough!)

If you weren't doing this job, what would you choose instead?

Good question... I'm not too sure actually. Something completely different like working behind the scenes on a filmset (I love movies) or working abroad volunteering somewhere exotic.

Who is your favourite singer or band?

I'm currently listening to a band called The Midnight (American synthwave). I do vary in musical tastes and go through phases. My office-mates think its funny that I work well listening to music - they seem to think I listen to 'ambient trance' (whatever that is!).

What's your favourite food?

Thai or anything garlicy

What is the most fun thing you've done?

Going to Kruger National Park and seeing most of the Big Five animals (lions, etc.). Also, I walked right past a big cat sat in the grass one evening, I had no idea it was there and lucky not to be pounced on!

If you had 3 wishes for yourself what would they be? - be honest!

To be happy, healthy, and to own a tropical island (why not?)

Tell us a joke.

Did you hear the one about the guy who invented Tic Tacs? They say he made a mint.
---
---